Starting Local SEO Campaign
"Local SEO For Local Business and For Local Customers"
Local SEO is the process of optimizing the website in order to make it to rank for selected keywords in its targeting area. In local SEO most of keywords contains the Location name. E.g. Carpenter in Miami, SEO Services in Florida and so on.
Everything that applies to traditional SEO also applies to local SEO.
Then What Makes Differences ?
"Specific Geo Location"
When doing Local SEO you must always keep the Geography in your mind. The Targeted location may be Single or Multiple locations. We have already discussed about On-page Optimization. Here we will see the same things but in respect of Local SEO.
What Google Search Result Page Says…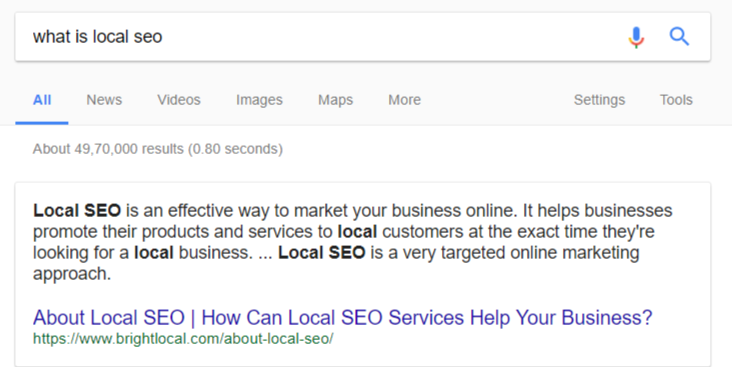 Title
As we have learnt about it in our past article. We will follow the same things as :-
Always put your important keywords in start of title.
Never use keywords in mass amount (when it need not),  instead of it use synonyms of that keywords.  Keep it under 55-65 characters.
Describe your page content in the best possible way
Use words like HOW, WHY, WHAT, and WHERE
Use words like BEST, REVIEW, and ULTIMATE
One Title is for Only one page
Description
Keep it in short sentences
Try to use Keywords in every sentence; not exact match, use synonyms
Keep it under 140-160 characters
Avoid duplicate meta descriptions
Make them meaningful and descriptive, matching your content
Tip: In Local SEO, Add Location Name, Phone Number in Title and Description.
NAP Everywhere!!!
NAP ?
Name
Address
Phone Number
Make sure you are using these 3 things very carefully and in detailed everywhere. If you want to rank in local, you must be consistent.
If you are changing your name, update this new at every place wherever you are with your old name.
Keep your address in detail everywhere such as (street number, post code, state, country). Google MUST know where your business is located. Google is capable to check your NAP on the Web including your website. Google checks the the consistency and quantity of NAP all around the web; as Consistency is a ranking factor for local search.
Create GMB
Create Google My Business Page for your business. In Local SEO Ranking factor we can see that Google My Business page is most important factor.
www.google.com/business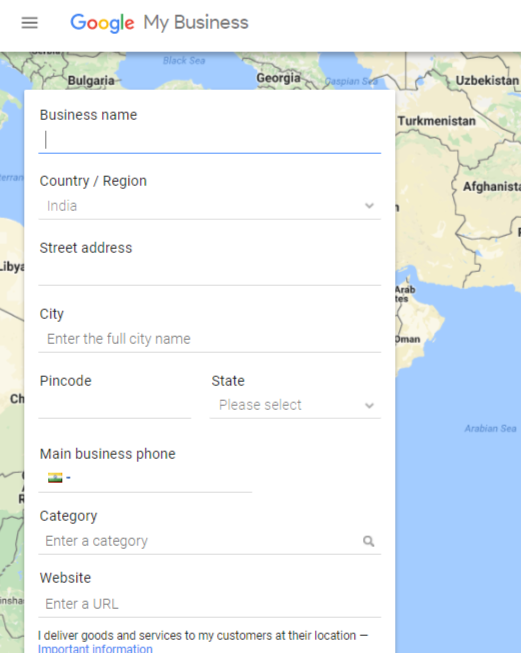 What Must Be Done On GMB
The data provided for your business (name, address) is correct, complete and accurate.

Keep Category Accurate and Relevant
The opening hours of your business
You respond to each and every review customers leave about your business
Respond to negative reviews too

. 

Add photos of your business.
Add Google Map on Your Contact Us Page
This is another activities which make your business more consistence and real. It is very easy to add Google Map On your contact us page. Here you can take help from Google Support .
Link Building For Local SEO
For local SEO, Link Building is too important as on page. Link building of Local SEO always starts from creating Google My Business Page. In this row we create profiles on Local Business Websites and Local SEO Citations.
Before going to create it, you must check this on that website. Whether it has been made already or not. There is a tool Yext where you can check it in bulk for many websites.
Always Verify
Without Verifying that profile is nothing. The tick ✔ mark make it more real and trustworthy. There are many ways to verify. You can verify with E-mail, Phone Number Verification or providing your Social Media Account information to that website.
Never Forget to Claim
If there is a listing which has been already created but not from your end and having wrong information about your business; just claim it. It is very easy process. Every citation Websites provide this facility.
Check Your Citations
There are lots of tool where you can check you local SEO score. Basically it tells about where your citation is created, if created is this fine or having any errors. You can get these all things from here and improve your score by fixing these issues.
You can check it on Moz and Yext.
As we have earlier said that Local SEO is not much different from Traditional SEO, you need not to worry more. Just follow traditional rules along with Local SEO for Local SEO.
Read Also:- On Page Checklist