Keyword Research Analysis
Keyword; The terms used to find anything in Search Engine.

Keyword Research is the technique which helps to find the most suitable, profitable and valuable keywords for your website/business.
Ranking for any Keyword OR Right Keyword ?
The Game starts here. Every website ranks for few keywords but that every keywords are not RIGHT keyword.  
Ranking for RIGHT keywords brings RIGHT visitors to your website and there would be more chances of Conversions. This is the reason it need to do Keyword Research.
Now without any more discussion let's move to know How to Do Keyword Research
We have divided Keyword Research in different segments
Gathering Keywords
Getting Keywords Matrices
Gathering Keywords
This is the step where we generate keywords from different sources.
Which Keywords You Are Ranking for ?
If you have newly website then there is no need of this step. But if you have old one you can find the the keywords for which you are ranking.
How To Get Existing Keywords
Get data from "Search Analytics" . You can download it too. There is not every keywords are most relevant therefore choose those keywords which are most relevant.
This is another tool which provides keywords for which you are ranking.
Get Keywords of Your Competitors
This is very important to know that which keywords your competitors are ranking for. This might be you get few great keywords.
You can get competitor's keywords with help of SEMrush. If you do not know your Competitors just put your website in SEMrush. It gives many competitors. Now you have to choose the best one.
You can get Keywords from one or more competitors.
Now you have ton of keywords after completing these two activities. But it may be you missed few keywords so use this method.
There are many Keyword Research Tool are available. Choose few of them which you are more familiar and find the keywords.
Google Keyword Planner
Ubbersuggest
Gather those Keywords which seems more relevant. Never select irrelevant keywords.
Example:-
If you are selling flowers then select keywords like
"buy flowers online", "buy flowers", "wholesale flowers in miami"
There should be action word into it.
Without Action word it would be like informative terms which bring wrong visitors to you.
Google Autosuggest
This is another trick to get those keywords which are being used by visitors in this time.
Google shows those keywords which users are performing search.
Get Related Search Term Too
You can get few keywords from top down of Search Engine Result Page. If you are not getting those keywords more fruitful; at least you get some ideas of keywords and as well as users.

These keywords can spark ideas of new keywords which might be very fruitful for you.
Have You Search Option in Your Website ?
If you have a Site Search; you can take idea from them. When A visitor comes on your site actually what he is looking for?  
It gives you many new ideas which would be very helpful for you.
When You Should Use Google Trends ?
This is another Google's Product which is very useful.
If you have 2 different terms and you are confused which one to used
Digital Marketing
Internet Marketing
As we can see here how the more searches have been increasing for Digital Marketing while it is going down for Internet Marketing.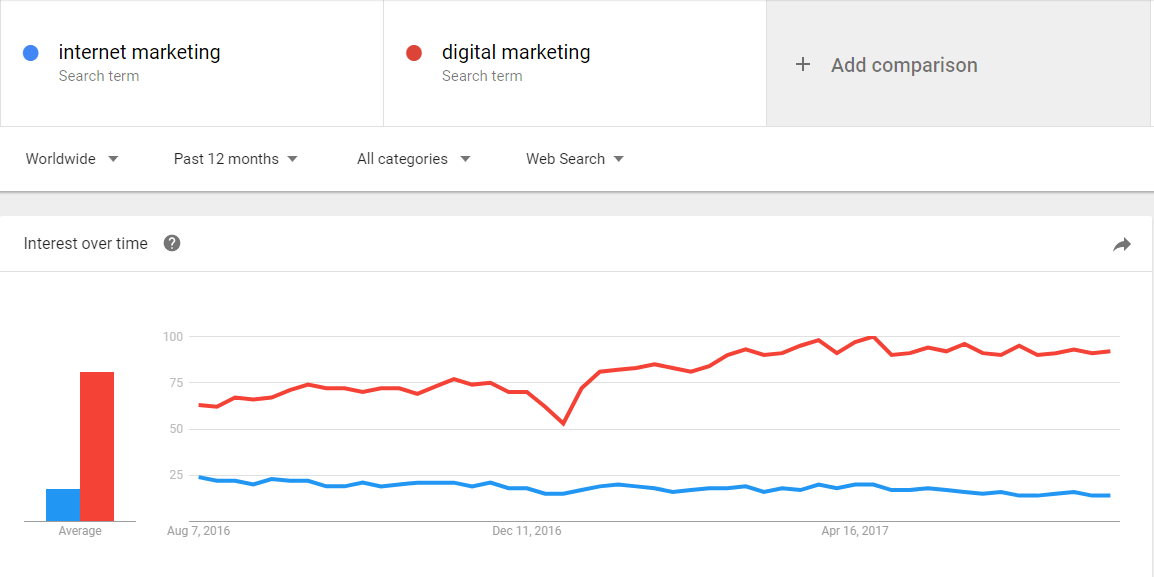 We can filter this data in Location, Date, Category and search options like web search, image search, youtube search etc.
So you don't need to be more confused. Just see their trends and use them according to that.
Getting Keywords Matrices
Now you have a ton of Keywords but which one to select ?
Now you have gone through the many different ways to get keywords but now you need to check them "Do They Sound 'Technically' Good".
Search Volume and Competition of keywords will answer this question.
This metric shows you the 'how many people are looking for a particular keyword in specific location' ? During search volume matriculation you can get data from the World, Specific Country or other region (Cities or States).
This data may be little bit unreliable for Seasonal Business because the search volume is basically an annual average. Here you can check it from Trends.
Since it is annual data so there might be that it doesn't accurately predict the search traffic.
How Easily You Will Rank ?
The competition of keywords can answer this question.
Sometimes for a high competitive keyword it is very easy to rank for a particular website. So it totally depends on your website's pre strength (if it is an old website).
Some Keywords may be very easy to rank for any website but it is very hard to convert them as customer. This is the reason we are talking about RIGHT Keyword from beginning of this article.
More Tips:-
Choose Keywords with High Search Volume.

Choose Keywords with less competition so that you could show some ranking.
Choose Keywords with medium/high competition keywords which bring more visitors.
Ranking for a high Competitive keywords on 2nd page is better than ranking for a keyword which are very less competitive.
Read Also:- What is SEO ?, On Page Checklist