Start thinking about Social Media platforms.

Now let me guess.

You just think about Facebook, Instagram, Twitter, and Linkedin. Why? Why not YouTube?

You know what almost 70% of the business and peoples are still not thinking about YouTube. This means they are losing lots of eyeballs.

YouTube is the best source to generate leads. One can also earn money by monetizing its channels.

It doesn't matter which business you are in? You are an Influencer, Speaker, Business-Owner, Dance Teacher, or anything else; YouTube is going to help you. From google, Now people are moving towards YouTube to find new things. YouTube is becoming the 2nd largest Search Engine after Google.

So, there are lots of good reasons to join YouTube. Join YouTube today and show your talent to the world.

YouTube Marketing Tools

Top 5 YouTube Marketing Tools are – 

YouTube Studio
YouTube Audio Library
Canva
Channelview
VidIQ
Here we are going to dive into each YouTube marketing tool that really gonna help you in YouTube marketing.
YouTube Studio

YouTube Studio is the official app of YouTube for creators. It helps you to make changes in your YouTube videos on Mobile.

This is not possible for every time to use the laptop and make urgent changes to your videos, so here comes YouTube Studio which provides the ability to make changes even on mobile devices.

With the help of YouTube Studio, you can manage te monetization settings, thumbnails, scheduling, and other details directly on your mobile. The YouTube Studio provides the feature to update your channel from anywhere at any time.

Install From here.

YouTube Audio Library

YouTube provides music and sound effects for Free. Yes, it is free. This is the best source and most useful one for every YouTube marketer. You can select the best one for you from the thousands of music tracks and sound effects stored at YouTube Audio Library. Also, there is nothing like a copyright issue if you are using the tracks from this library.

Let's have a look at its features which force you to use this amazon feature in YouTube videos –

A free library which gives you music and sound effects for your videos.
The categorization of music into different genres makes it easier to find more relevant music or sound effect.
It also provides the music or sound effects duration; again it makes it easier to find the most suitable tracks for your videos.
Explore YouTube Audio Library From here.

Canva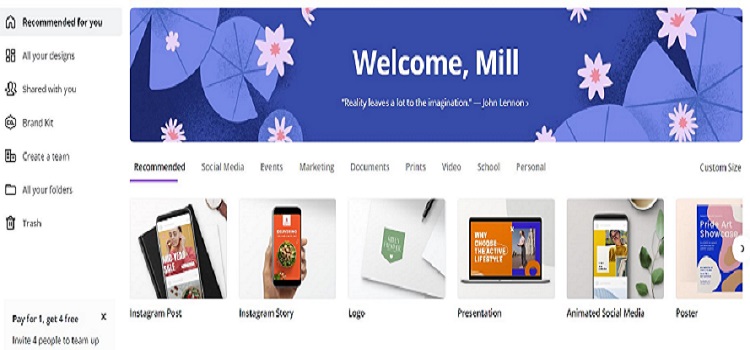 Canva is one of the trending image creation tools. It is available in both Free and Paid versions. It has a huge number of templates with unique designs. You can customize them and can do your branding over there too. Also, you can work on your mobile devices too by installing Canva App. If you are going to have a paid version; you will be getting a large number of options of templates, fonts, color options, and more.

As a business owner or a marketer, you must be aware of your designs, images, videos, etc. Overall it represents your company outside amongst your customers. In this case, you must join the Canva and should give it a try at least once. Let's see its other features –

In the free version, it gives a ton of designs which might be enough for a business.
There are lots of layouts and designs are available for every occasion.
Designing on Canva is very easy due to its drag and drop feature.
Along with the layouts, templates, designs, images, there are lots of fonts-style too which make your designs better.
Join Canva Today.

Channelview
Channelview is the best tool to monitor the growth of your channel in different aspects. It can monitor up to 10 different YouTube channels. So if you are managing multiple YouTube channels this tool is for you. You can manage different clients, brands which are having multiple channels in one go. Also, it will help you can boost your subscribers with the help of the Channelview tool.
You can streamline your YouTube experience and explore more YouTube videos, users, and YouTube channels by monitoring 10 different timelines. It gives you the ability to upload and schedule the video release in order to get more engagement and views. From here, you can see the activity of your cannel, engage with subscribers, and refine your subscriptions. So, this tool is offering you something more than YouTube with an easy interface.
Join Channelview.
VidIQ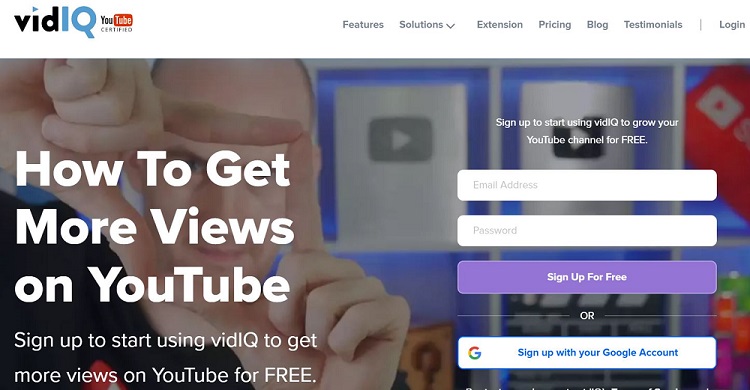 VidIQ is another best tool which provides the facility to promote your brand in the most unique way. It helps you to get more views on your videos. Also, it helps your videos to get more views by focusing on tags, watch-time, and social-shares. It also provides tips and tricks to the channel owner in order to grow its channel. It has other several features such as – 
This tool can be used as an auditing tool and find out what is actually working and what is actually not working at all. We can create a strategy based on the audit report. 
Also, we can spy on our competitors and find out tier strategy and can get to know what actually we are missing which our competitors are doing very well.
We can do a comparison between our videos too and find out why a video is working well while another one is not.
We hope these top YouTube marketing tools will help you with your YouTube marketing campaign.  Create the best video, upload it in the best manner, and share it like a giant. Rest work will be done by your viewers i.e. Like, Comment and Share. Do not forget to optimize your YouTube videos in order to good replacement of keywords in Title, Description, and Tags. Always Choose the category the most fitted one for your video. If you need any assistance in your YouTube Marketing or in using these YouTube Marketing Tool, please feel free to contact us.