SEO : An Introduction
SEO stands for Search Engine Optimization. Search Engine Optimization is a technique which increases the visibility of a website in Search Engine. It increase the visibility of website Organically (Not Paid).  SEO is not only good in respect of Search Engine but it is good for Users too.
SEO is a technique which helps search engines to find and rank your site higher than the other sites in response to a search query or keyword and it helps you to get traffic from search engines.                         
Search engine optimization (SEO) is the science/art of increasing traffic to a website by helping it rank higher in organic, or non-paid, search results.
-Bruce Clay
Why Needs SEO For Every Websites ?
Everyone wants more traffic on their website. But how will they get it ? Basically Traffic comes from Search Engines (Google, Yahoo & Bing), Social Media and from the other websites. The majority of Traffic is driven to website by the Search Engines. In this situation if Search Engines do not find your website then hardly you will get traffic. In this case website needs to target those keywords which driven relevant traffic to the website.  
It is not the job of search engine optimization to make a pig fly.It is the job of SEO to genetically re-engineer the website so that it becomes an eagle. 
– Bruce Clay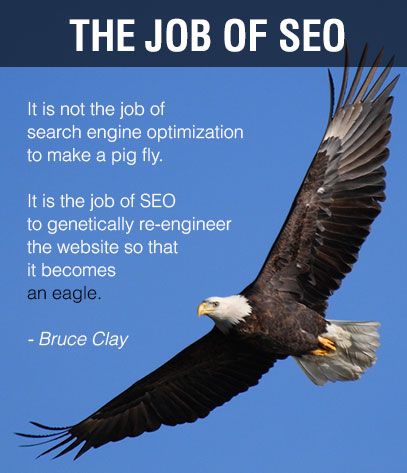 Types of SEO Techniques
Types Of SEO
Make Your Site Appear in Google
"Great Content Provides Great Links"
SEO helps your website to appear in Google. It totally depend on your Content Quality. If you have great content people will be more interested to take link their site from your website. It makes you more visible in Search Engine.
Read also :- On Page Checklist 2017, Top SEO Mistakes in 2020