The Ultimate Guide To Google Search Console
Again A Great topic!!!
Yes This is true that you have account in Google Search Console but you really do not know what to do and how to use this.
Don't Worry… Just Go Through This Article
If we see around website we found that there are many products have been provided by Google just to help us. One Of them is Google Search Console.
It is very easy to Setup Account in Webmaster Tools.
The data provided by Google Search Console is well enough to further optimize your website and make it more error less. Now Here I am giving few important points which will make it more easy for you.
Structured Data
Structured data helps Google understand the content on your site, which can be used to display rich snippets in search results.
–Google Search Console
It detects the structured data in your website and let you know about it. If there is any error it tells you with more suggestions and tips.
We will more read about Structured Data in next article. It is not so easy to cover this in the same topic here. It has been a very important part of SEO as well as website.
HTML Improvements
Google Search Console provides errors related to html too. This allows you to fix any HTML errors that might have a negative effect on your rankings within Google. It provides suggestions to  make it more easy for you and your website.
Accelerated Mobile Pages
Google announced AMP to make pages load faster in mobile device. It has been an important part of  website as the searches on mobile is increasing day by day. Webmaster Tools provokes and suggests you to have Accelerated Mobile Pages.

Search Analytics
This is another important part of Google Search Console. It gives you Keywords for which you are ranking and getting clicks. It gives the Clicks, Impressions, CTR and Average Position for that Keywords.
After its update the Google Search Console has started to give more data herein. Now it is providing the Queries with Pages (the pages which are ranking for the queries), Countries ( from which countries you getting more visitors), Devices (Mobile, Desktop, Tablet) and Search Type(Web, Images, Video).
There are another feather in Search Analytics which is very useful. It is Filter. Now you can filter every available data.

Links To Your Site
Here you can find every link which are pointing to your website. You can find out that which pages have more links and which have less. You can make your link building  plan from here by prioritizing  your pages.
Crawl Errors
Crawl Errors has again broken down in two parts :- Site Errors & URL Errors
If you have not any errors, it will look like this…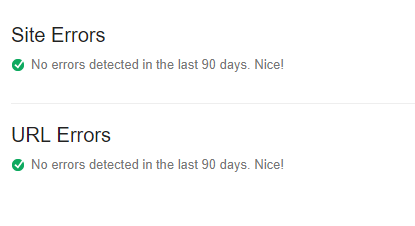 Site Errors
This is the error which is specified to your entire website. This includes DNS resolution failures, Server Connectivity issues and errors while fetching Robots.txt file of your website. Whenever Google Search Console finds these errors on your website it informs you. It shows you past 90 days data. If these every options are going good in your website then Google just mark there check mark with green color.  

URL Errors
This is the errors which are specified only to your an URL or particular page. A googlebot reach to your page only if there is no Site Errors (DNS resolution failures, Server Connectivity, Robots.txt errors).
Again Google breaks down URL errors in different categories :-
Soft 404

Not Found (404 Error)

Access Denied
If there is error you can download it and fix it according to type of error.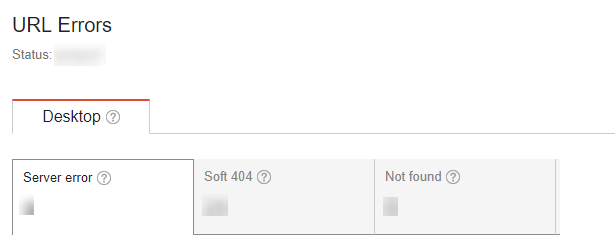 Sitemap
Here you can add and test your Sitemap. You can download it too if you need. You can find the processed date of sitemap and if it is too long time you can send a request to crawler. It provides data about how many pages have been Submitted and indexed.

Settings
You can specify your location which you want to target. You have the ability to make your site appear with the www preceding it or not.
Hope You Enjoyed This!!!
Read Also: Setup Google Search Console Account