How To Set Up Goal In Google Analytics
Goal ??
I know you are thinking about Goal with Question mark.
Okay let me clear you. It is very easy to Setup Goal in Google Analytics.
Do you want to track your desired actions if an user is completing it ?
Yes.
Then you are at right place.
It does not matter what kind of website you have when you are setting up Goals in Google Analytics.
So, Let's See the Steps
Click on Admin. It will open many options in Account, Property and View setting. Goal is under the View setting. Click on Goal. Now you see there is an Red button +New Goal. Click on that button.
Admin>>> Goals >>>  + New Goal

Now, you are going to see 3 basic options for creating goals in Google Analytics:
Using a Goal template
Creating your Custom goals
Creating your own Smart Goals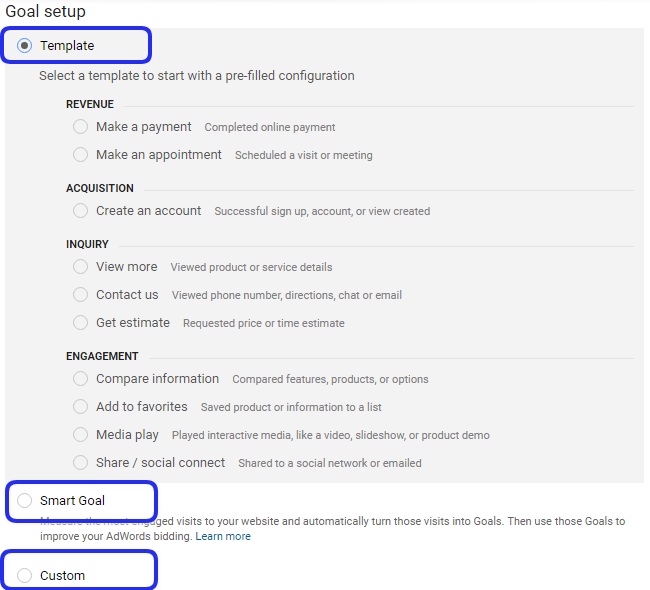 Using A Goal Template
Template ???
Template make it easy to simplify the action.
By setting goals based on a predefined business objectives which are divided into 4 categories: Revenue, Acquisition, Inquiry, Engagement.
Don't see any templates?
You will not see Template options if you have not selected any industry (automotive, entertainment, etc.) while setting up Account.
If you have not selected an industry you won't be able to see templates under your goal settings.
Creating Your Custom Goals
Custom!!!
No.. No… No….
Do not afraid. It is not so hard as you are thinking.
It is so easy as texting to someone.
Let's  Know the Steps
Select Custom>>> Click Continue >>>>Goal Name>>>>Type
Types of Goal
It is important to know the types of Goal before going to setup goal.
Destination :- Select this when if you want to track the pageview of website as a conversion.
Duration :- You can track the user engagement by setting up duration as a conversion.
Pages/Screens per session:- You can track the number of pageviews per session as a conversion.
Event:- If you want to track the user interaction like button click, video play, ebook download as a conversion; use this one as a conversion.
Let's see an example for Destination Goal type.
Now next steps, as we were here
Select Custom>>> Click Continue >>>>Goal Name>>>>Type
Selected Destination>>> Click Continue

Goal Details
Now you'll be asked to enter the destination URL.
In our case, it's the thank you page URL.
Select Equal to ….
Get Thank You page from the website and put in the box.
/thank-you/
If you want to give an value to your goal you can. If you goal is related to transaction you can put here the value of one transaction.
Otherwise leave it blank.
Funnel; We will discuss this in our upcoming articles as it important to know how to use it and its importance.
Click Save.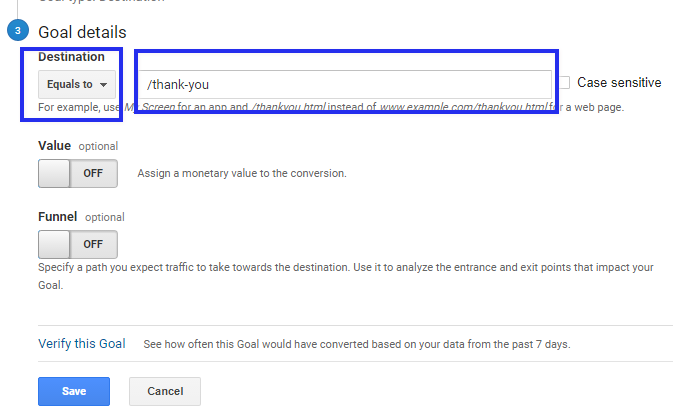 Yesssss You did it.
You have successfully created a goal in Google Analytics.
How To  Delete A Goal In Google Analytics
Actually you can not delete the Goal in Google Analytics. There are only up to 20 goal can be setup in every reporting view so it is important to think and decide before creating the goal. If you want to stop any goal you can turn on/turn off any goal in google analytics by clicking on the recording button.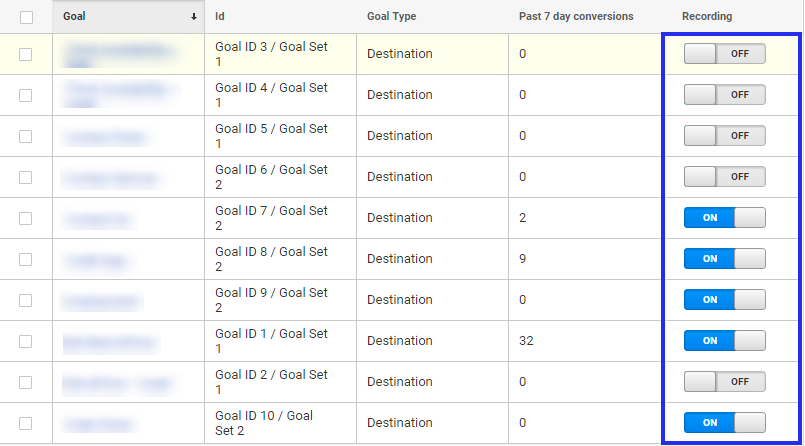 Hope you Enjoyed This!
Read Also: Setup Google Search Console Account