Local Ranking Factors
If someone has local business, he must want to rank locally to get local audiences or customers. Ranking in Local Search Ranking has been tougher nowadays but not unachievable. Earlier there were 7 results were showing in Local packs. Google has decreased it to the 3 results and made it 3 -Local Packs. In my earlier post "How To Start Your Local SEO Campaign", I discussed little bit about Local SEO.
Here. I am going to explore that 5 factors which affects local ranking most.
Wait..Wait….
Before moving on my own points, I would like to show you some other posts related to it. In 2017, Moz has published an article which contained the top 8 factors which impacts the local ranking.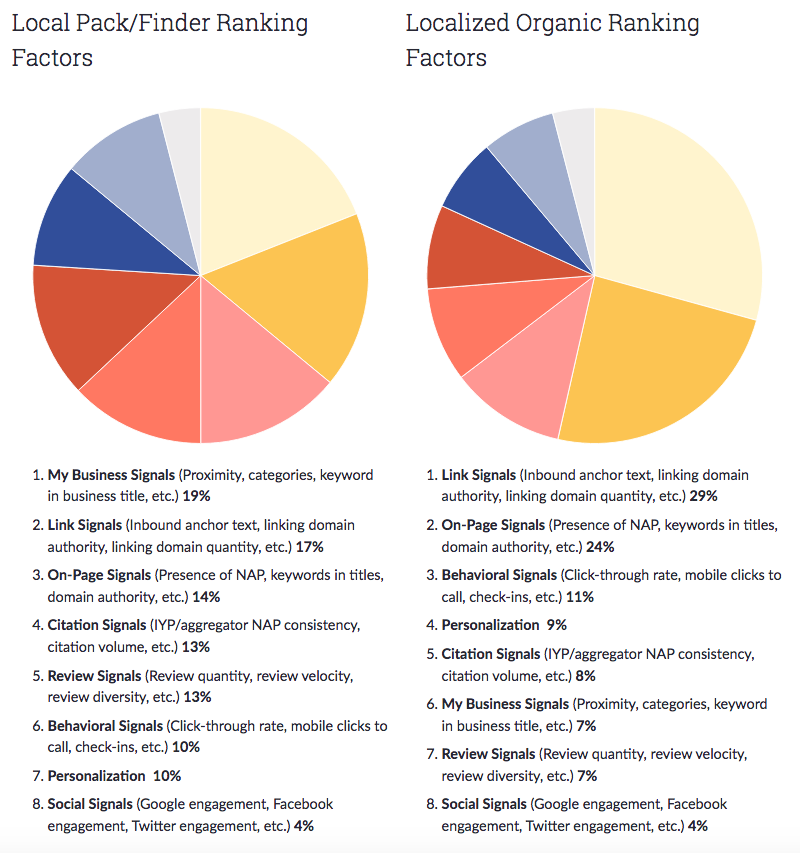 Here are my points which are needed more attention while go for Local SEO this year. If your are SEOs, you must understand the Google updates too. The Google has recently released Possum Update  before this there was Pigeon Update. So, whenever proceed for local campaign must follow these updates. You can see the other updates at Google Updates Cheat Sheet.
Google My Business Listing
You must have listed your business on the Google Business Listing. This is the part which shows the Google in SERP while show the result. You must have a verified Google business listing page. Whenever create this page you must fill out it full of information. Do not leave even a single blank option. You must put here following things which for Google usually asks for:-
Citations (Other Listings)
You must be clear about putting the information on listing websites. You would have heard about NAP consistency. Let me explore it more.
NAP means Name, Address and Phone Number. These are the most basic things local SEO. You must put these exact on every website. If you  do not keep the consistency in this it will harm you most and the Google will be confused about you. Google will be confused to see lots of different things about one Brand name or website.
So, always keep to have NAP consistency.
Besides the quality you must focus on the quality too. You must keep doing listings on different websites. It increases your citation volume and provides information again and again to the Google. By placing NAP at the right place you help the Google to find your business  when someone looks for the same business associates to you.
Reviews
In both real and virtual life reviews does matter. Google counts your each and every reviews and check its negativity and positivity about your services or products. So, it would be great to have more and positive reviews on your citations including Google Business Listing Page. If there are any negative reviews, must try to talk to them and resolve the issues if any really exist. Sometime competitors do the negative reviews to show them low.
Simply you can ask your customers and clients to do positive reviews on your citations including Google Listing page. Yo can send them an email too. You can provide those positive reviews on your websites too. It increases trust and reliability of your products or services. Share them on Social media accounts  too.

On Page Optimization
Your website is just optimized or optimized in respect of NAP?
It would be great to follow the following tips which are best practices amongst the Local SEOs
Put the exact information on the website what is on Google My Business Page.
If there are multi location put them all on the website or try to create the separate pages for each one.
Include the location in Title and Description tag.
Try to mention them in Heading and Alt tag too.
Put the Keywords in title and Description.
Create the content location oriented.
Social Signals
It builds trust between you and your customers. Use the social platforms in a proper way. Keep posting on  regular basis. It creates user engagement and keep informing your customers what is new in your services or products. Google counts the every engagements on Social Media. Try to boost the engagement on the Facebook, Twitter, Linkedin and other social websites.
I think this sounds good. These all factors give us a sense and reason to work most on these websites.
Hope you like this article. Thanks for reading this.