How to Set up Google Search Console Account
Go To Google Search Console (Link) former it was Google Webmaster Tool
To add your website or App click on right corner red button "Add A Property"

Now you will be asked for Website or App. Choose website and put your Website in the given tab and click on Add button.

Now you have to verify your ownership of website. You will be given number of options to verify, choose which is the easiest way for you.
First you will be given two method : Recommended For You and Alternate Method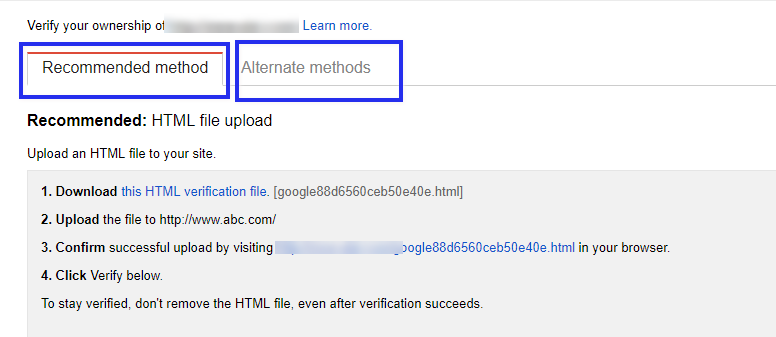 Recommended For You
This one is provided by Google Search Console; which recommend you to upload the file in your website. This method might be little bit hard if you are not more technical guy.
Then
Is There Any Easy Way ?
Yes;
This is called Alternate Method. Let's have look over it.
Alternate Methods
There is another method which provides another 4 ways to verify your ownership.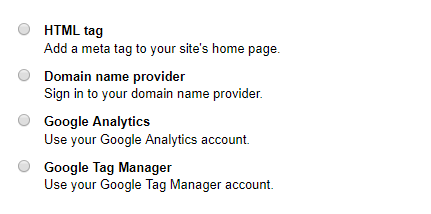 HTML Tag
Google Search Console provides an HTML tag to put into your website under the Head tag.
After putting this html tag in your website click on Verify in Search Console.

If you are using WordPress and installed plugin then it is very easy for you. In plugins there are option to put your code provided by Search Console.
Here I am giving example from Yoast.
Click on Webmaster Tools button and in Google Search Console tab put the code here. But here you have not to put the whole code. Just put the part of the code. See the images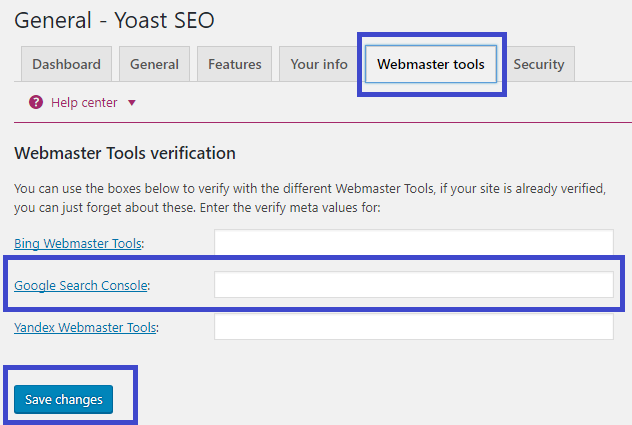 Domain Name Provider
Here GSC asks your Domain Name Provider. From drop down menu select your domain name provider company. Then follow the Google instructions given there and after completing instructions click on Verify. This one is little bit hard. Very few choose this one.
Google Analytics
The easiest way to verify your ownership is Google Analytic. If you have already created your Google Analytics Account then use this one.
Here you need to have admin access to verify. If you have not admin access; you are not able to do so.

Google Tag Manager
This one is another easy and lost option to prove you ownership. If you have Google Tag Manager Account with admin access, you can verify through this method.

Here just selecting the fourth method,  click over verify button and thus your account has been verified.
Because you are setting up Google Search Console first time; it would take time to show your data. Just wait at least one day to collect it data.
Now What ?
There are few more actions which must be done at the same time. After setting up account Search Console Team sends a mail to you which includes some more tips use the Search Console in a better way.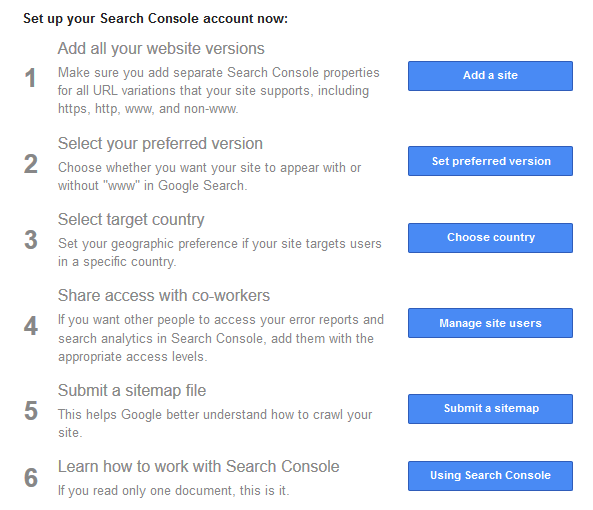 Submit Sitemap
You have already your website. Then you have already created your Sitemap. Now it's time to let the google know about it. So just submit your sitemap with the help of Google Search Console. This helps Google to crawl your website regularly for updates. It is very easy to create sitemap if you are using WordPress.

That's Great. You Have Set up Your Google Search Console (Google Webmaster Tools) Account.
Now It's time to play with data and make plan for your business success. Thanks.
Read Also:- How To Set Up Google Analytics Account