The Impending Voice Search And Visual Search Revolution And How You Can Adapt
With the rise of virtual home assistants and visual searching options, users have a new way of searching the web, and business owners are faced with yet another challenge.
The good news is that optimizing for voice or visual search only requires a few tweaks to your current SEO strategy. The better news is that these technologies are relatively new to the digital landscape, which directly translates into less competition and easier conversions.
This article will tell you exactly how you can attract a new and emerging demographic of voice and visual search users by making swift tweaks to your current marketing strategies.
Voice Search: The Natural Way To Ask Questions
Initially limited to smartphones, voice search technology has been around for quite some time. However, with the emergence of smart speakers, voice search is fast becoming the preferred way of searching the web. 43 million Americans already own a smart speaker, and it is expected that by 2020, 50% of all searches will be voice searches. The voice search revolution has already begun, and it is time to jump on the bandwagon.
Voice powered shopping spend is set to jump the $40 billion mark in 2022 and I have zeroed down on four strategies for you to be able to get a hefty bite out of this highly lucrative pie.
Let's see how we can start optimizing for voice search right now:
Making The Most of Voice Search Technology
The process behind a voice search is quite similar to a normal search. You speak a query and the smart speaker/virtual assistant returns results in voice.
The significant difference is, the speaker only returns the top results in voice. If the user is using a virtual assistant on their smartphone, the rest of the results can be viewed on the screen.
This means two things.
One, the voice search advantage is only available on the top few spots of the SERPs.
Secondly, in order to guide the right strategy, it is important to understand the way our audience interacts with voice search. When we enter a query into a search engine, we are used to entering precise keywords that will return the results we desire.
However, when a user speaks their query into a smart speaker, the tone is more conversational, and the query is, in many cases, a complete sentence, if not a phrase. In fact, most voice searches are in form of questions that start with 'what, who, where, why or how'.
Based on our understanding of these characteristics of voice search, a voice search optimization checklist should include the following things:
1. Optimize to Feature in Google's Featured Snippets
In several cases, the top search query is the "featured snippet" chosen by Google. Featured snippets are usually SERP page 1 results that precisely and concisely answer the user's query.
Here's an example: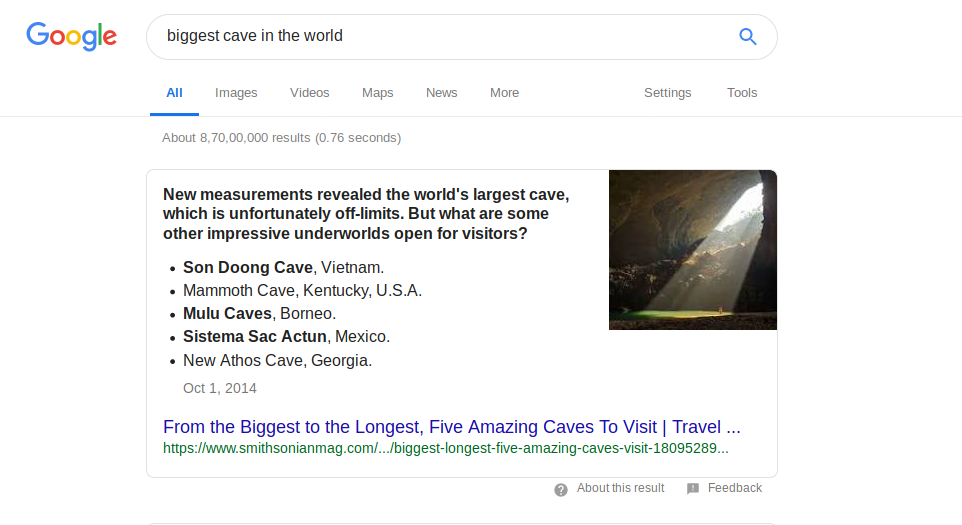 While there is no surefire way of ending up in the featured snippets, optimizing your content to answer the user's query, instead of ranking for keywords is a great start. Here's a more comprehensive guide on improving your chances of landing in Google's featured snippets.
2. Target Long-Tail Keywords
As mentioned earlier, voice based search queries are conversational, and hence, make use of long tail keywords. In order to rank for long tail keywords, the keyword research needs to be undertaken with a different approach.
Begin by understanding the common queries that your audience may have. Since most queries are also in the form of questions, answering these questions is a great way to land in the top search results.
In most cases, long tail keywords are specific in nature, which means there is less competition ranking for them. Identifying such low hanging fruits can easily help you get featured in relevant voice search results.
Bonus Tip: Google's 2013 update, Hummingbird, has placed a lot of emphasis on the intent behind a search query. If you can understand the intent behind a search term, and optimize your content to satisfy your user's intent, it will translate into a surefire win!
3. It is All About Being at The Top
Since only the top results are given voice, ranking in the top 10 is not good enough. If you want your result entry to be spoken by the smart speaker placed in your customer's living room, it is important to be smart about your SEO strategy.
Ranking at the top for all relevant keywords is next to impossible. For this reason, it is important for webmasters to low competition opportunities, and expend their efforts on ranking for them. If you concentrate your efforts on a small set of highly relevant, low competition keywords, your chances of being the top results will improve drastically.
4. Concentrate On Local
Here are a few stats for your consideration:
The inference from these statistics is quite straightforward, if you want to take advantage of the voice search trend, optimize for local search and mobile usage.
By now, you should know exactly what you need to do in order to optimize your website for voice search. In the spirit of gaining early advantage with upcoming trends, let's now talk about visual search.
Visual Search
With the rise in popularity of visual platforms such as Instagram and Pinterest, the visual search revolution has been long overdue. The fact that visual search has limitless real-life applications and delivers unmatched efficiency makes this revolution all the more important.
Think about it, you spot someone wearing a jacket that you like. Entering the description of the jacket in a text or voice based search is going to lead you to results of several similar looking jackets and you will have to find the one you like.
Now imagine if you could simply snap a picture of the jacket and search it on the web to find the exact jacket you saw. This is precisely what visual search is all about. The user uploads an image, and receives relevant search results in return.
While the technology supporting this is very new, there are several major platforms that have adapted to it:
1. Google
For years now, Google has been adding advanced image recognition capabilities to Google Images. It began with the Related Images update launched in April 2013. After a 2016 update, users were able to click on a product image to display key information relevant to the product. With another update in 2017, Google started displaying similar products and even product styles with image results.
By observing these updates, we can easily guess that Google is trying to turn Google Images into an product discovery platform. Google selects the results based on schema markup data and image recognition, prioritizing results from authoritative websites. Google also priorities series of visuals that focus on a particular product type, or a complete look.
This means, in order to rank for visual results, website owners need to continue building their Domain Authority (DA), while also making sure their images are original and high quality, and coupled with proper structured data.
2. Google Lens
Just as the name suggests, Google Lens converts your phone camera into a searching device. The jacket example mentioned earlier explains this functionality perfectly. However, when it comes to searching for products through a lens, Google isn't the only player in the game.
Before we get to the others, let's first understand how we can rank for the image results prompted by a Google Lens search. While there are no special requirements for ranking for these results, there are two things that marketers often overlook:
Pay Attention to Alt Tags: More detailed meta tags will help the search engines understand your images better. As a result, your images will be easily retrievable when someone searches for a similar product, or even a product that falls in the same category.
Understand the Importance of Visual Elements: Google Lens, along with all similar technologies, make use of AI to find relevant products and images. The AI recognizes colors, shapes, sizes, and logos. For this reason, it is critical to ensure you logo placement, along with all other visual elements, are consistent and visible. This rule is not limited to your website. In fact, if you have a physical store, make sure your logo and brand name is clearly visible outside. The same rule applies to product packaging, and even the product itself.
3. Pinterest Lens
If you don't already have a Pinterest presence, the visual search revolution will make it a necessity. With a conversion rate of 8.5% for carts under the value of $199, Pinterest ads have already surpassed Facebook's 7.2%.
Pinterest became the first in the race of lens search platforms with the launch of Pinterest Lens in 2017. With 600 million searches being conducted on the platform each month. Pinterest Lens has emerged as a promising platform for marketers, especially in the field of food and fashion.
Once you have created a presence on Pinterest, follow these optimization tips to ensure your brand is visible for the relevant image-powered searches:
Test your visibility: Use the Pinterest lens to ensure your products show up when a similar object is scanned. If not, use the keywords that come up in the search results, and optimize your images for them.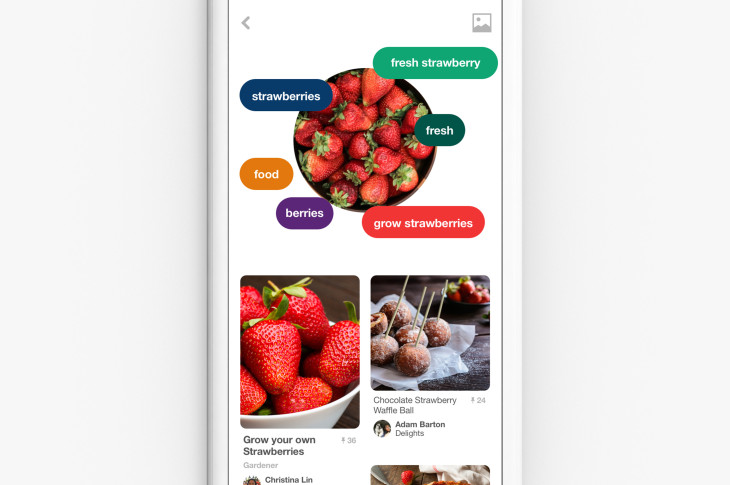 Leverage existing visibility: Encourage your existing audiences, across platforms, to use Pinterest lens to find your products. This will not only drive visibility and engagement, it may offer preference benefits as the Pinterest platform grows.
4. Snapchat's Visual Search
The Snapchat Visual Search works in a similar way to Pinterest Lens. When a user scans a product or a barcode with their Snapchat camera, a pop up will display the product, or similar products featured on Amazon.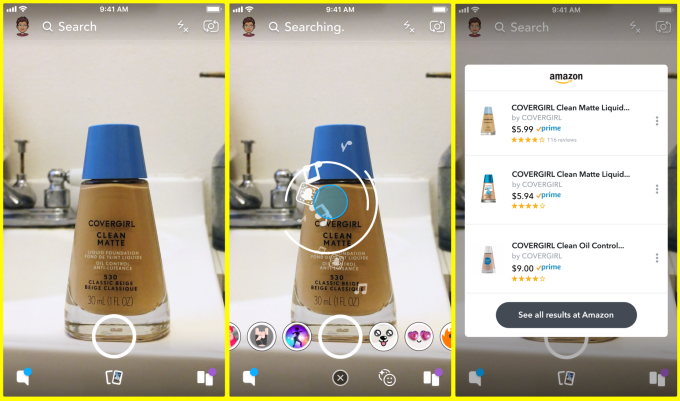 The card also shows the price, ratings, and Prime availability. If the user decides to purchase, they will be redirected to the Amazon app or website.
Custom Visual Search
With the technology readily available, brands are now developing their own image powered search features integrated into their apps.
One great example of the same is the Lowe's in-store navigation app. Considering the home improvement giant sells several varieties of similar looking spare parts. It is difficult for their consumers to understand or remember the name of the specific faucet in their bathroom that turned out faulty. Locating such a product when you visit a Lowe's store is even more difficult.
The new application uses motion tracking to tell customers where they can find their desired products within a Lowe's store.
Another great example of a brand using visual search to its advantage is Asos. The huge fashion website features 85,000+ products and now allows an in app lens search feature.
If your business also has a app, the same feature can be added with a simple API.
Conclusion
The rise of voice and visual search is not merely is new opportunity to lighten the purses of your customers. If used right, these technologies can act as a catalyst towards building long-lasting brand loyalty.
Think about it, if your brand is one of the few early adopters providing their customers with revolutionary easy of use, your audience will definitely appreciate the gesture in the long run.